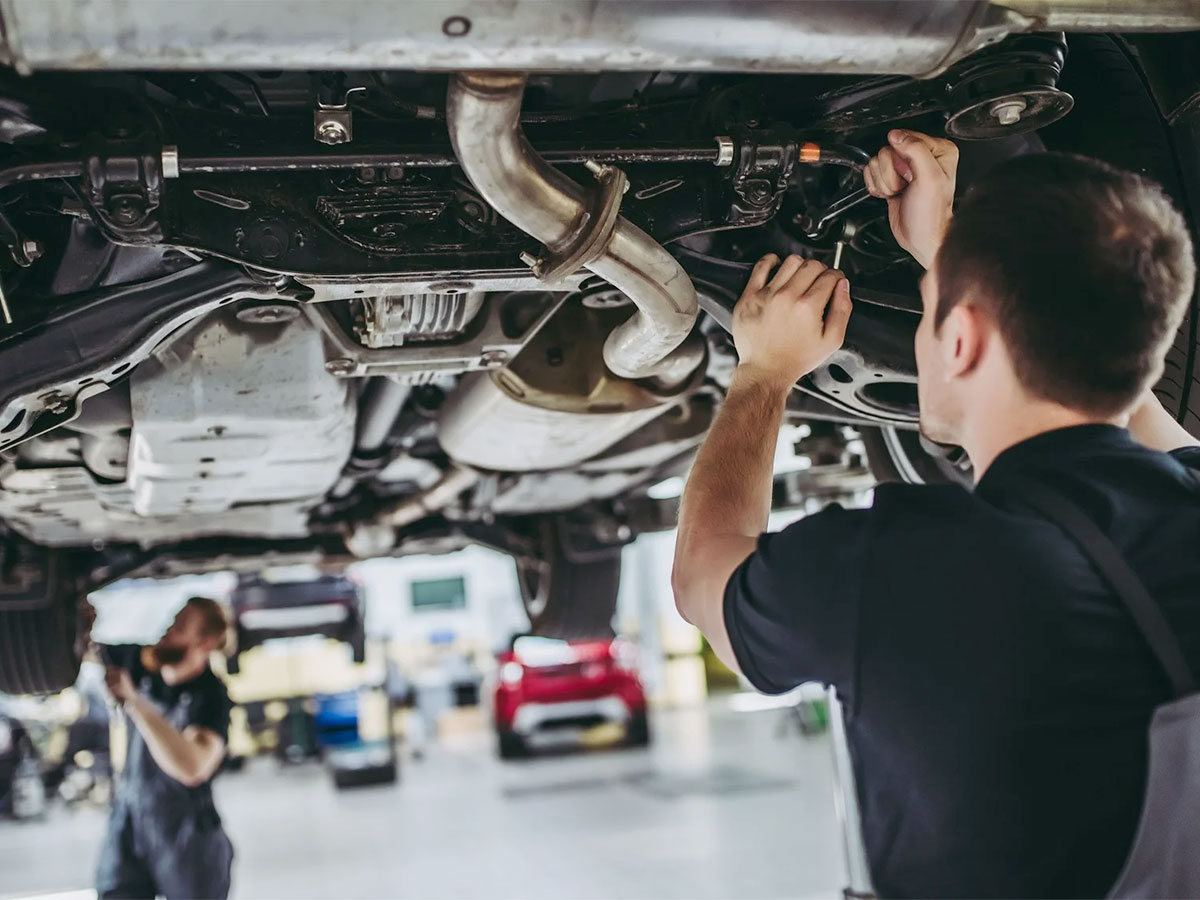 MOPAR Muffler Inspection & Replacement in Milwaukee, WI
Your exhaust system is one of your vehicle's most important parts when it comes to keeping everything clean. After all, the byproducts that come from burning gasoline in your engine have to go somewhere, and you don't want that grime building up on crucial engine components. If your exhaust is starting to look a little strange or you've got other signs of muffler problems, you should have it checked out and replaced.
Exhaust systems are interesting because there are so many different possibilities. There are different types of exhaust systems and varying qualities of pipes, mufflers and manifolds. If you're looking for the best muffler inspection & replacement service in the Milwaukee, WI, area, you can count on John Amato Chrysler Dodge Jeep RAM. Thanks to our certified technicians, keeping your car or truck in great shape is simple.
What's the Purpose of a Car's Muffler?
The exhaust system in your car or truck is designed to take the byproducts of combustion and remove them from your engine without affecting critical parts. To do this, the exhaust has to be sent through a pipe and eventually out of the exhaust pipe at the back of the car. To prevent this process from making too much noise, a muffler is used to silence the exhaust noise as much as possible.
One of the classic signs of a bad muffler is a vehicle that suddenly sounds much louder. You might also notice that you're not getting the gas mileage that you usually get, or that your exhaust smells worse or different than it normally does. As a general rule, you should have your exhaust system inspected every two to three years, and chances are you're going to need your muffler replaced after about five to seven years.
The John Amato Chrysler Dodge Jeep RAM Difference
When you own a car or truck, there's no worse feeling than having some sort of major problem that costs thousands to fix. The best way to prevent those problems is to find a good dealership you can take your vehicle to regularly. If you're near Glendale, WI, John Amato Chrysler Dodge Jeep RAM is the smart choice when it comes to maintenance and repairs. OEM parts and certified technicians mean we're dedicated to providing the best service.
Our technicians can handle the job, whether you're looking for an exhaust upgrade or a simple pipe or muffler replacement. If taking care of your car, truck or SUV is a big deal to you, John Amato Chrysler Dodge Jeep RAM is the place to go.
Visit Our State of the Art Vehicle Service Station near Menomonee Falls, WI
John Amato Chrysler Dodge Jeep Ram is one of the top-of-the-line car servicing businesses in the central Milwaukee, WI region and nearby Menomonee Falls. There is a comfortable waiting area with many amenities to enjoy while you get a muffler inspection and replacement service completed by our trained technicians. To schedule an appointment, give us a call or use our online appointment scheduler to get help when it is convenient for you.
---
Dealer Wallet Service Marketing & Fixed Ops SEO by
Service Hours
Monday

07:00AM - 05:30PM

Tuesday

07:00AM - 05:30PM

Wednesday

07:00AM - 05:30PM

Thursday

07:00AM - 05:30PM

Friday

07:00AM - 05:30PM

Saturday

08:00AM - 05:00PM

Sunday

Closed
Service Center Address & Phone Numbers