John Amato Chrysler in Glendale is a full service car dealership offering new and used cars, trucks and SUV's from Chrysler, Dodge, Jeep and RAM.
Newest Edition To Amato Auto Group
As the newest dealership in the Amato Automotive Group family, our brand new facility is modern, clean and customer friendly in many different ways. Located just EAST of Johnson Controls on Green Bay Avenue, the state of the art building is on 4 acres with the majority of it for showcasing the latest offerings.
Glendale, WI is a great community and John Amato Chrysler is happy to be a part of it. The area has been growing since the 1950's and has been recognized as one of the most progressive areas of North Milwaukee. With major hotel chains and Nicolet High School, Glendale has proven to its growing population that it is a great place to live and raise a family.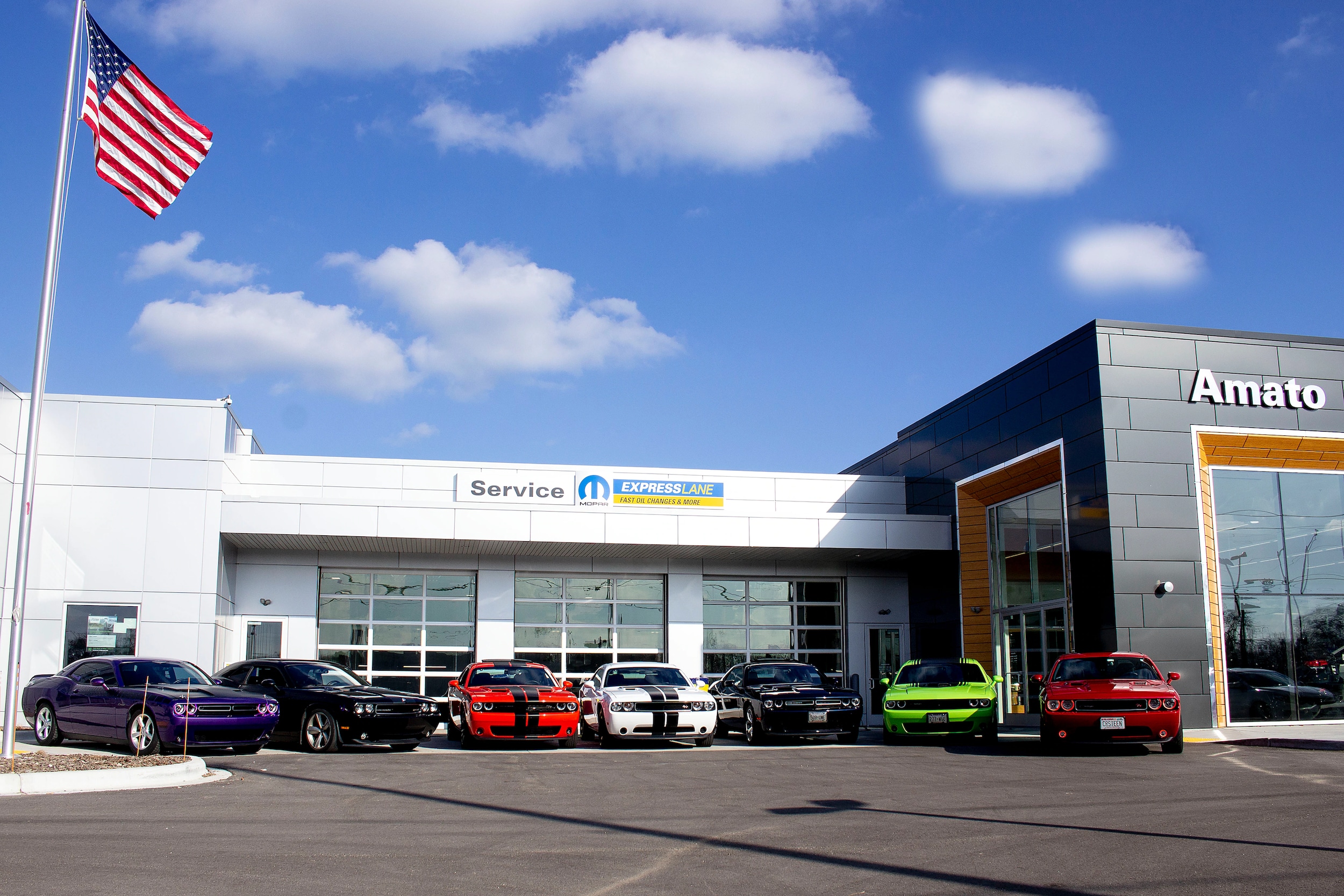 Your Family to Ours
Part of raising that family is making sure you have a way to get around the expansive Milwaukee Wisconsin area. That is where John Amato Chrysler comes into play. It has been a long tradition that we do not want to just sell you the first family car, but the 2nd, 3rd, and 4th, as well. The relationship that you build with us is just the beginning and we want to be your car dealer for life.
We encourage you to take a drive down Green Bay Avenue and visit John Amato Chrysler, Dodge, Jeep, RAM. Our dealership is inviting with a spacious showroom, friendly staff and a comfortable waiting area that boasts FREE popcorn each day!
State of the Art Dealership
John Amato Chrysler offers many different amenities to our customers, new and old. It does not matter if you are looking for a certified pre-owned car, truck or SUV, or just need a new service center, we are here to help.
The Chrysler dealership is only one part of the Amato family, where the more recent models from Nissan, Ford, Mitsubishi can also be viewed. Each of our locations has a modern website that is easy to navigate. All of our locations are easy to find and offer many of the same amenities.
Conveniently Located
Not far from the Bayshore Town Center, our Glendale Chrysler dealership is located on the bus line and within walking distance of many areas of the city. Even if you cannot make it to John Amato Glendale, we offer a home consultation service.
We are proud to offer the Home Consultation service that actually brings the vehicle to YOU. All you have to do is fill out a form and schedule an appointment and we will do the rest.
Glendale Has Plenty to Offer
Glendale has 12,000 residents these days and many of them live and work in the same area. With large, inviting parks, plenty of summer events and retail centers close by, the city offers so many reasons to bring your family. Becoming a lift long resident is the city's goal and a life long John Amato Chrysler customer is ours.
Customer satisfaction is our #1 priority and we encourage you to review our dealer ratings on Google. With almost 600 ratings, it is clear that your family can trust that you will get a great shopping experience while you are working with us.
Amato Car Buying Experience
Over the last 50 years, the car buying experience has changed drastically. Years ago, customers could count on getting confronted the minute they were visiting a dealership. Today, much of the buying/selling process can be done online, leaving few steps left to take before you are driving your next, favorite new car.
Excellent service is recognized within the Amato Automotive Group. That is evident from the test drives, to the side by side comparison of a Jeep Grand Cherokee in two different colors.